Availability:
Out Of Stock
Digital Media Receiver featuring 10.1" HD Screen / Wireless Apple CarPlay / Wireless Android Auto / HDMI Input / 4-Cam Input / High-Resolution Audio / iDatalink Maestro Ready / Bluetooth® / 13-Band EQ
Apple CarPlay™ – Connect Wirelessly or via USB
A smarter, safer and more fun way to use your iPhone in the car. Apple CarPlay gives iPhone users an intuitive way to make calls, use Maps, and listen to music with just a word or a touch. With the latest iOS version (iOS 12.0 and higher), 3rd party navigation apps like Google Maps™ and Waze™ are supported.
Android Auto™ – Connect Wirelessly or via USB
Android Auto is a simpler, safer way to use your phone in the car. Just plug in your phone – or in select models, connect wirelessly – and you'll get all your favorite maps, media, and messaging apps on your car display.
Mirroring for Android Phones
Connect Wirelessly
Wireless Mirroring for Android Solution for seamlessly displaying and controlling your smartphone apps on a screen without cables on select Android devices.
*Selected models only
Mirroring for iPhone and Android Phones –
Connect via USB
By installing the "Mirroring for JVC" app, your iPhone or Android phone is seamlessly displayed on the receiver's screen via USB. You can enjoy a variety of apps such as Waze, YouTube, and Instagram. Touch control is possible from both screen and smartphone.
HDMI™ Mirroring for Smartphones
Display your smartphone screen on the KW-Z1000W's display via an HDMI cable and third party adapter.
*KS-U60, optional HDMI cable and smartphone specific third party adapter are required (sold separately).
Large & High Definition Display (1280 x 720)
The large-screen 10.1" HD display is about 2.4 times higher resolution than the conventional WVGA panel. With this display, jagged edges are eliminated in the displayed image, providing sharp and vivid images. In addition, the color development increases, and the individual colors of the image become clear, so you can enjoy high-definition images.
Optical Bonding Technology
The optical bonding technology minimizes the refractive light index by bonding the liquid crystal module and clear panel. It suppresses the reflection of the screen and maintains high visibility. In addition, since optical bonding does not have an air layer between the liquid crystal module and the clear panel, display visibility is not impaired by internal condensation, further enhancing its durability.
Adjustable 3-Way Display Position
Fully adjustable display allows you to change the height,
angle, and depth for easy vehicle fitment.
Dynamic GUI
Various information including time, photos, album art images, or iDatalink Maestro™ and more, can be displayed on the home screen in a big, easy-to-view way. Swiping the monitor with two fingers lets you split the screen or change the information window.
Live Wallpaper
Synchronize background visual and color with music.
iDatalink Maestro – Advanced Vehicle Integration
iDatalink Maestro RR (sold separately) enables the retention of the factory steering wheel audio controls, factory amplifier, secondary displays and can even display vehicle information (performance data, climate controls, battery voltage, etc.) when connected to compatible vehicles.  Radar detector information can also be displayed on the screen when used with a compatible K40 radar detector system (sold separately).
iDatalink Maestro RR2 Compatible
KW-Z1000W is compatible with iDatalink Maestro RR2 (sold separately)*. The RR2 provides seamless retention of factory safety and camera systems, steering wheel controls and adds performance gauges in most modern vehicles. In addition, the RR2 provides three programmable outputs that can be used to activate things like a winch or a light bar from the KW-Z1000W's on-screen controls. Radar detector information can also be displayed on the screen when used with a compatible K40 or ESCORT radar detector system (sold separately).
4-Camera Input
Enables users to add a reverse (rear facing) camera, front camera and an additional 2 blindspot cameras, further enhancing driver safety and convenience. 
SOUND OPTIMIZATION
From advanced technologies that enable playback of premium High-Resolution Audio sources, to the vast array of sound adjustment functions to fine-tune and customize the acoustics exactly the way you want — count on JVC to deliver the music to your ears.
High-Resolution Audio Playback
You can enjoy playback of 96kHz/24bit audio which contains about 3 times the musical information of music CDs (44.1kHz/16bit), or even 192kHz/24bit High-Resolution Audio files with their approx. 6.5 times data volume. With high sound quality approaching the original master recording itself, you will experience the presence and ambience of a tune the way CD simply cannot.
High-Quality Bluetooth® Streaming with LDAC™

LDAC™ sends approximately three times more data (at the maximum 990 kbps transfer rate) than conventional Bluetooth® audio for superior wireless listening. Unlike other Bluetooth compatible coding technologies such as SBC, it operates without any down-conversion of the Hi-Res Audio content *1, and allows approximately three times more data *2 than those other technologies to be transmitted over a Bluetooth wireless network with unprecedented sound quality, by means of efficient coding and optimized packetization.
*1: excluding DSD format contents
*2: in comparison with SBC (Subband Coding) when the bitrate of 990kbps (96/48kHz) or 909kbps (88.2/44.1kHz) is selected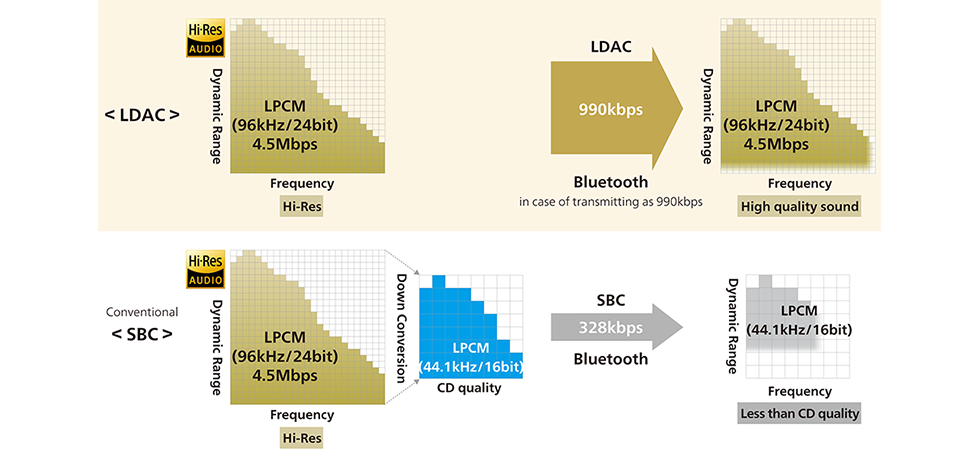 *LDAC and LDAC logo are trademarks of Sony Corporation.
* "Hi-Res Audio" Logo and "Hi-Res Audio Wireless" Logo are used under license from Japan Audio Society.
K2 Technology for Enhanced Digital Sound Quality
K2 is a JVC original technology that reproduces the original master sound by expanding the frequency range. For example, K2 will expand the digital data of the audio CD recorded at 44.1kHz to 192 kHz. It is also possible to recreate the high-frequency range above 20kHz that is cut during the CD formatting.
Time Alignment
By selecting the speaker type and the distance to the centre of the listening position, the receiver will automatically adjust the timing of the sound output from each of the speakers so that the sound from each of the speakers will arrive exactly at the same time to the listening position.
Sound Response
Cancels time distortion to create clearer sound during the playback of compressed audio files.
Space Enhancement
Space Enhancement is a virtual surround technology using 2 speakers. Just select the vehicle size, and the receiver automatically adjusts the sound effectively.
Sound Lift
Virtually manipulate the height of the speakers by adjusting the sound frequencies.
Volume Link EQ
Volume Link EQ boosts specific frequencies in the audio signal to compensate for the impact of road noise. It boosts frequencies in the music that are affected by road noise.
13-Band Equalizer
Use the 13-Band Equalizer to manually adjust the sound to your taste.
Built-in HD Radio Tuner
HD Radio is a Digital technology that allows a radio station to transmit more information in the same radio wave, enabling higher quality sound and additional content. HD Radio technology makes AM Stations have FM Station-like sound quality, while FM Stations are broadcast with CD-like sound quality. Unlike typical FM or AM transmission, HD Radio has crystal clear reception with low noise and no audio distortion.
2 Phones Full-Time Connection
You can connect two phones full time via Bluetooth, with secure and simple pairing. Calls to either phone can be received by a push of a key on the receiver.
iPhone®/Android™ Bluetooth Automatic Pairing
Just connect your iPhone or Android device via USB and the automatic Bluetooth pairing function will work to complete the pairing. No complicated manual procedure to worry about.
Bluetooth Voice Recognition
Improved Sound Quality with HFP 1.7 Wideband Speech
Improved sound quality thanks to HD Voice contributes to a higher level of voice recognition accuracy.
Bluetooth AVRCP1.6 for Versatile Song Selection
In addition to repeat and random playback of music files, you can also easily search for songs using the browsing function. Just look for and choose the song you want to hear from the folder name and song name lists.
JVC Streaming DJ
Connect up to 5 Bluetooth devices simultaneously, so you and your friends can take turns streaming music like a DJ. Move to the groove and get the party pumping to the max.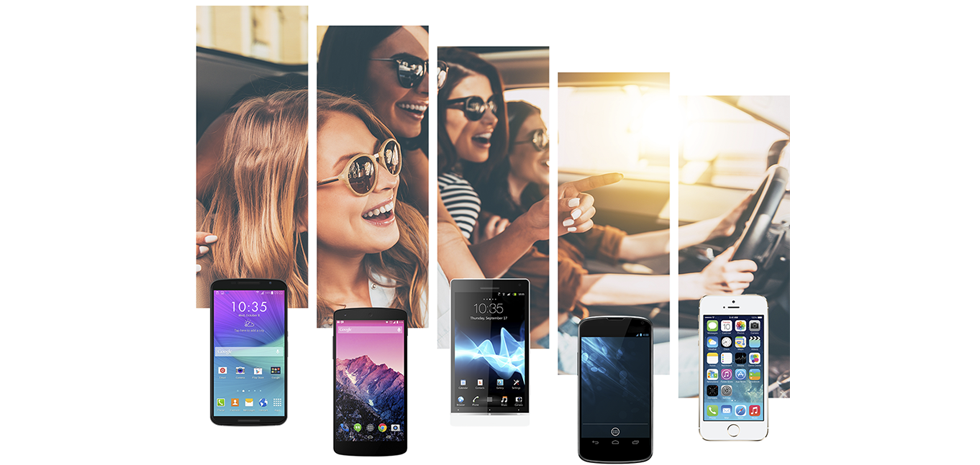 JVC Portal App Compatible
Display the image data saved on your smartphone on the KW-Z1000W with JVC Portal App now available for both iOS and Android. You can set your favorite image on the wallpaper of the receiver and enjoy the slide show.
Pandora / iHeartRadio / Spotify Control

Listen to Pandora, iHeartRadio, and Spotify from your smartphone with smooth control on the receiver via USB or Bluetooth connection for iPhone, and via Bluetooth for Android devices.
Ready for SiriusXM Radio
(optional SiriusXM tuner required, sold separately)
Ready for SiriusXM Radio. You can listen to over 100 Channels of music, sports, and entertainment.
iDatalink Maestro – Advanced Vehicle Integration
iDatalink Maestro RR (sold separately) enables the retention of the factory steering wheel audio controls, factory amplifier, secondary displays and can even display vehicle information (performance data, climate controls, battery voltage, etc.) when connected to compatible vehicles.
Dual USB with High Current 1.5A Charging
Rapidly charge your smartphone using the USB port, with up to a maximum of 1.5A. Two USB ports are available.
*Compatibility depends on the smartphone.
5.0V High-Voltage 3 Pre-Outs
Equipped with three RCA terminals for pre-outs with 5.0V high voltage. Increasing the output voltage from the pre-outs helps reduce transmission noise and distortion when connected with an external amplifier.
Steering Wheel Remote Control Ready
Factory steering wheel control functions can be retained with a third-party adapter (sold separately).
Remote control (RM-RK258) is optionally available.
Expandability
AUX Input
Mini (rear)
Audio/video Input
Composite+Mini (rear)
USB Input
Rear
Backup Camera Input
Yes
Second Camera Input
Yes
CarPlay
Wireless
Android Auto
Wireless
Siri Control
CarPlay only
Alexa Voice Control
N
Android Control
Yes
Memory Card Slot
USB
Bluetooth Compatible
Built-in
Satellite Radio Ready
SiriusXM 3.0
HD Radio
Built-in
Navigation
Optional
iPod Compatibility
Full size
No
Nano
No
Touch
7Gen
iPhone
6S and up
General
RMS Power (CTA-2006)
N/A
RMS Power (Manufacturer)
22 watts
Peak Output
50 watts
RMS Power Bandwidth
20-20kHz
Preamp Outputs
6-channel
Sub Preamp Outputs
Yes
Switchable Rear Preamp Outputs
No
Video Screen
Yes
Navigation App Compatible (iOS)
Apple, Google, Waze
Navigation App Compatible (Android)
Google, Waze
Preamp Voltage
5 volts
Screen Size
10.1
Display Color
Key Button Color
Blue
EQ Bands
13
Wireless Remote
Optional
Steering Wheel Control Compatible
Adapter required
Parts Warranty
2 Years
Labor Warranty
2 Years
Tuner
FM Sensitivity
7.3 dBf
European Tuning
No
Seek/Scan
Seek
Radio Data System
Yes
File Playback
Music File Playback
MP3,WMA,AAC,FLAC,WAV,DSD
High-res Playback
WAV/FLAC (24-bit/192kHz)
---
Shipping
- U.S. 48 Only
FREE: 1-5 Business Days UPS
Expedited Shipping Options: Calculated At Checkout
Large Item Shipping Costs: Calculated At Checkout
We ship most orders the same day if placed before 3pm Eastern time Monday - Thursday. Orders placed after 3pm will ship the next day. Orders placed after 3pm on Friday will be shipped on Saturday, orders placed after 3PM on Saturday will be shipped on Monday. We are glad to announce Saturday shipping – however we do not ship on Sundays. We do not ship on US holidays or whenever our carriers take holidays i.e., USPS, UPS, and FedEx.
---
Returns - Online Purchases
Purchases made on freemanscarstereo.com are eligible for a return request within 30 days of order delivery. A return authorization number is required for all returns: any return that does not contain a return authorization number will be refused and returned to the sender. Full refunds are only issued for unopened and unused products.
Refunds
> Full Refunds
In order to be eligible for a refund, item(s) must be unused, unopened, and in the same condition in which it was received. There is no restocking fee for brand new/unopened/sealed items.
Customers will receive a return confirmation email within 1-2 business days that will confirm receipt of their return and confirm whether or not that return will be eligible for a refund. Approved refunds will be processed automatically via a credit back to the customer's original payment method.
> Partial Refunds
Any item that is damaged, has missing parts, or is not in its original condition is subject to a restocking fee of up to 50% of the order total. If the box or seal is opened there is a 20% restocking fee.
Installed, used, or damaged items may not be eligible for return or, will incur a restocking fee. These situations include but are not limited to the following:
Any sign of use - including signs of installation, scratches, physical marking, screw holes, or similar.

Tags, stickers, or other manufacturer labels removed or tampered with.

Missing parts or the original product packaging is damaged.

A product that is returned bearing a serial number that does not match the serial number of the product shipped by Freeman's Car Stereo.

Physical damage from drops, liquid, mishandling or similar.

Damage due to improper return packing by customer.

Mounted or used subwoofer enclosures and speaker boxes.

Blown, punctured or fried speakers, subwoofers, and amplifiers.
> Late or Missing Refunds
Refunds can take a week or longer to post to your account depending on your bank. If you haven't received a refund yet, please contact your credit card company or bank. If your refund has still not been posted within 2 weeks of being issued please contact us via email: esales@freemanscarstereo.com.
> Online Gift Returns
If the item was marked as a gift when purchased and shipped directly to the gift recipient, the gift recipient will receive a store credit for the value of the return. Once the returned item is received, a freemanscarstereo.com gift certificate will be mailed.
Warranty Exchanges*
We follow all manufacturer's policies regarding the processing of warranties. Warranty exchanges or repairs are subject to eligibility periods based on purchase date as well as specific manufacturer policy.
Missing serial numbers, physical damage, or customer abused products will void warranties, repairs, and exchanges.
Items That Cannot Be Returned
- Gift cards

- Opened and/or used installation parts will not be accepted for return or refund.