FREE SHIPPING ON ALL ORDERS
The Best Motorcycle Audio Speakers, Stereos & More In 2023
Raising the Bar for On-the-Road Sound
Gone are the days of settling for mediocre sound while cruising. From sleek and compact speakers to sophisticated connectivity solutions, motorcycle audio manufacturers have passionately pursued the fusion of cutting-edge technology with the rugged demands of the open road. When every decibel matters, riders are no longer content with mere background noise and the latest products are here to deliver.
From the sleekest designs to the most impressive functionalities, we've got the lowdown on all the best gear that's been redefining the way we enjoy our rides.
Head Units/ Motorcycle Stereos
Motorcyle Audio by Soundstream and Precision Audio is a game changer in the world of motorcycle head units. Their plug-n-play (no hardware required!) products are not only they loaded with functionality, they fit seamlessly into the factory opening for Harley Davidson bikes. Just find the stereo that fits your year and model, and drop it in.
Soundstream stereos come equipped with the latest high tech connectivity features likeApple CarPlay, Android Auto, and Bluetooth. They are also built tough to withstand anything the elements can throw at them. Models vary but all Soundstream head units have a stylish, sleek faceplate that maintains the factory look of your motorcycle.
Make It Better:
You can (and should) retain your stock handlebar audio controls using their handlebar control module for only $69.99.
Add SiriusXM so you can listen to your favorite programs and never worry about cell service with the SiriusXM SXV300M tuner for only $69.99.
Bottom Line:
Soundstream is an high value and simple upgrade for any Harley owner looking for better sound and more functionality on the road.
Motorcycle Speakers and Amplifiers
Kenwood's motorcycle products are engineered with cutting-edge technology, ensuring excellent sound quality, durability, and ease of use, making them the preferred choice for motorcycle enthusiasts.
Make It Better:
Bundles are an easy way to get the everything you need for the sound you're looking for.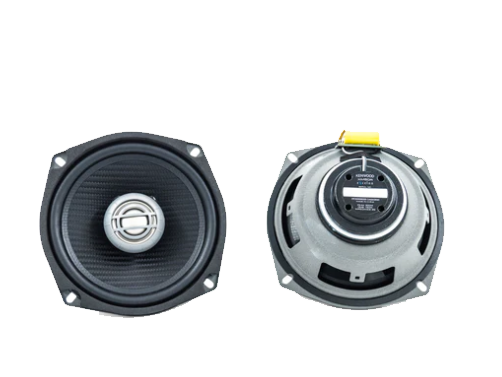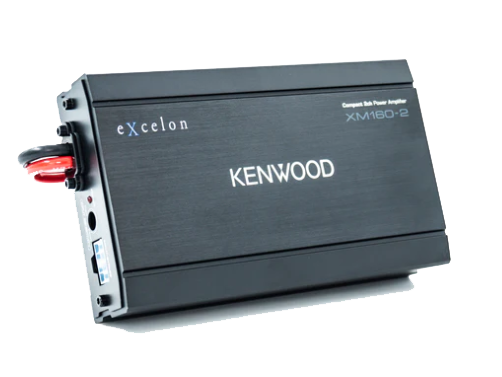 Highlights:
Class D 2-Channel Power Amplifier
80W x 2 @ 2 ohms (RMS)
No Radio Flash Required
Bypass Port For System Expansion
Street Glide®/Ultra® Mounting Plate
Road Glide® Mounting Plate
Plug & Play Power, Speaker, & Input Wiring
Speaker Level Input For HD OEM Radio or Any Aftermarket Receiver
Input Sensitivity Adjustment
High Efficiency Design Will Not Overload HD Electrical Systems
2-Year Warranty
Make It Better: 
Bundles are an easy way to get the everything you need for the sound you're looking for.
Bike Fitment:
2014-Current FLHX Street Glide
2014-Current FLHTK Limited Ultra
2014-Current FLHTCU Ultra Classic
2014-Current FLHTCUG Tri Glide Ultra
2015-Current FLTR Road Glide
2020-Current FLTRK Limited Road Glide Ultra
2016-Current FLTRU Road Glide Ultra
This list is not conclusive. Product may fit additional bikes.
These plug-n-play sound packs from Hertz are engineered specifically for 2014+ Harley Davidson motorcycles. They're easy to install and deliver a high performing audio experience.
NEO Speakers: Since their launch in 2020, the Hertz SPL NEO speakers have gained immense popularity. Crafted with motorcycle use in mind, the 6.5" NEO speakers come with terminals and mounting holes that seamlessly fit Harley-Davidson® motorcycles. These speakers are engineered to deliver remarkable efficiency and boast an impressive capacity to produce booming sound. Among their shared features, the NEO speakers flaunt high-strength pressed paper cones, fortified to withstand water, humidity, and UV exposure. Additionally, they are equipped with a unique Neodymium N38 H magnet that not only enhances performance but also reduces overall weight.
SP 4.900 Amplifier: A robust four-channel amplifier that boasts cutting-edge Advanced D-Class output stage. Thanks to ADC, it achieves an outstanding 85% efficiency, all while delivering a powerful performance of 160 x 4 WRMS or 500 x 2 WRMS when bridged into a @ 4Ω load. Despite its incredible power, this amplifier maintains an ultra-compact design, measuring just 8.3 x 5.1 inches. For installations with limited space, the SP 4.900 stands out as the perfect option.
With IP55 certification, the SP 4.900 guarantees top-tier defense against moisture, humidity, and dust. Additionally, this model is equipped with a sealed power cord, line inputs, and speaker outputs, ensuring secure power transmission even in the most challenging weather scenarios. Its sturdy power supply harness establishes an ultra-stable power and ground connection, effectively averting any potential loss of contact due to vibrations.
HTHP14 T-Power Harness: The HTHP14 T-Power Harness is designed for use with the SP 4.900 amplifier. It is engineered to simplify the installation process by eliminating the need for any wire cutting. With these harnesses, the installation becomes as easy as Plug and Play.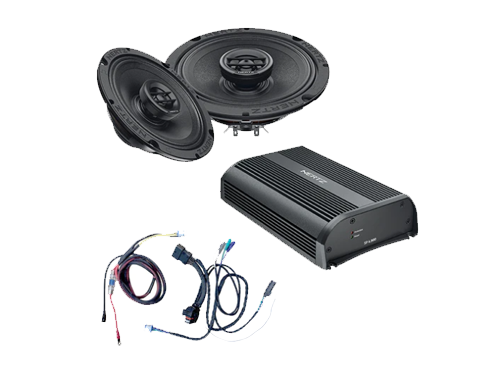 HSP1 includes:
HSP1 Kit includes the SP4.900 amplifier.
1 pair of SX 165 NEO coax speakers.
Plug & Play HTHP14 T-Power harness.
HSP2 includes:
HSP2 Kit includes the SP4.900 amplifier.
1 pair of SX 165 NEO coax speakers.
1 pair SV 165 NEO woofers.
Plug & Play HTHP14 T-Power harness.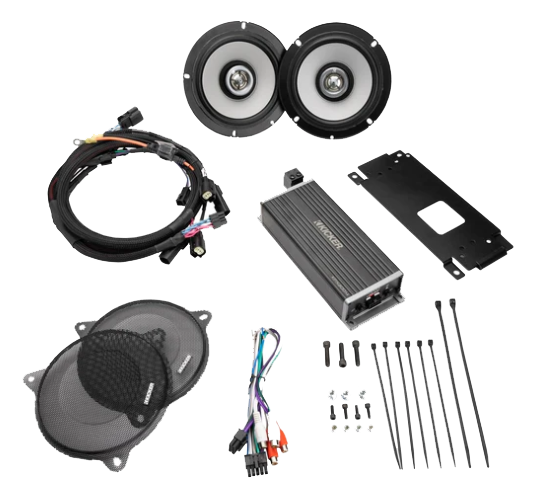 Add great sound to your 2014-and-newer Harley-Davidson Street/Electra/Ultra Glide fairing or 2015-and-newer Harley-Davidson Road Glide "Shark-Nose" with these complete audio lid kits. It's a complete audio solution loaded with waterproof KICKER 6-1/2-inch Coaxial Speakers (2 Ohm) and pre-measured, terminated speaker harnesses.
Specifically designed for Harley-Davidson 2014-newer Street/Electra/Ultra Glide Fairings
100% plug-and-play installation
Everything you need in one box
6-1/2" redesigned high-performance, weather-proof coaxial speakers (pair)
Polypropylene woofer cones resist moisture
Super-efficient, 20mm neo-titanium-dome tweeters, bridge-mounted
Neodymium magnet structure reduces weight for superb bike balancing
Extreme volume level for clear music reproduction through helmets
Small-footprint, high-power amp with very low current draw
Custom-fit mounting bracket for amp
Coaxials - Max Recommended Amp Power (Peak/RMS): 120W/60W
Redesigned Amp - RMS Power (watts/ch.) @14.4 Volts, 2 Ohms: 75x4
Kicker 50HDR154 6.5" Speaker Upgrade Kit with Amplifier for 2015-Up Harley Davidson Road Glide
Kicker 50HDR154 6.5" Speaker Upgrade Kit with Amplifier for 2015-Up Harley Davidson Road Glide
Specifically designed for Harley-Davidson 2015-newer Road Glide "Shark-Nose" Fairing
100% plug-and-play installation
Everything you need in one box
6-1/2" redesigned high-performance, weather-proof coaxial speakers (pair)
Polypropylene woofer cones resist moisture
Super-efficient, 20mm neo-titanium-dome tweeters, bridge-mounted
Neodymium magnet structure reduces weight for superb bike balancing
Extreme volume level for clear music reproduction through helmets
Small-footprint, high-power amp with very low current draw
Custom-fit mounting bracket for amp
Coaxials - Max Recommended Amp Power (Peak/RMS): 120W/60W
Redesigned Amp - RMS Power (watts/ch.) @14.4 Volts, 2 Ohms: 75x4
Need More Help? Get In Touch